AMICA
THE HOUSE OF DREAMS
She imagined it every night, before falling asleep. Then she found it exactly as she had imagined it. It's the Florentine studio-apartment, with the allure of the 1930s, by Nicole Valenti, designer and entrepreneur. Her focus? The handles, a perfect metaphor to open up to the world.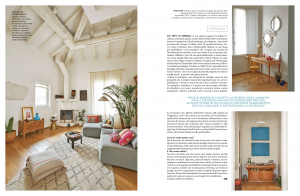 POP PIECES On the right. Above the vintage desk, two mirrors from the Pop Food collection by Niva, which will be presented at the Salone del Mobile 2022. Below. At the entrance, an old butcher counter. The works in blue are trapdoors of a fishing boat recovered.
ON THE ROOFS OF FLORENCE, in a space suspended between mystical references, ceramics, palms, cacti, prickly pears. Below, the lively swarm of the district of Sant'Ambrogio, the antique shops, the markets of Piazza dei Ciompi. A 1930s allure, large sizes, exposed beams and déco finishes. It would look like Milan, if it weren't for that breathtaking view that gives you a postcard-like Brunelleschi Dome. A home studio of an eclecticism imaginative, refined and rich in a sweet personality and decided together.
Like that of its owner: Nicole Valenti, 37 years old, born in South Tyrol, creative and designer, founder of Niva Design, all-female company where also works Francesca Zulberti, marketing manager. Founded in 2018, Niva specializes in artistic handles, unusual, unique, handmade pieces. And the house of Nicole Valenti – who took care of the restoration project and the furniture – is, coincidentally, full of doors. «The idea of developing a collection of handles comes from a gesture that has always been very important to me, that is, opening or closing a door that can change your scenario.
The handle is a metaphor: it is the means by which we can decide to open up to a new world to know visions and unexpected spaces». Valenti, deep hazel eyes and elegant hands, has a rare charm. Thanks to the curious nature, the traveler spirit, of course. But also a combination of femininity and spirituality, elements on which she has focused lately, as she herself says: I have just presented a line of vessels for interior and exterior that are inspired by "cosmic casting" and female forms. I created it for the collectible design gallery Vgo by Valentina Guidi Ottobri, in the South of France: we work on the theme of design and spirituality».
How did you choose this house?
For the terrace, it reminds me of the bow of a ship crossing the seas. When I immerse myself in the small urban jungle that populates it, very precise scenarios materialize in my mind. From here I draw great inspiration to give shape to my projects.
And you found her right away?
I was looking for one that had an outdoor space, because I had been living in Florence for about ten years and I had never had balconies or terraces. Every night, before going to sleep, I imagined exactly the house I wanted, then I did my research with real estate agencies and word of mouth between acquaintances. One day, through an old friend found at a design event I had organized in the city, I learned about this apartment. You can't imagine the surprise: in front of me I had what I dreamed every night with open eyes. And so we immediately concluded the negotiation.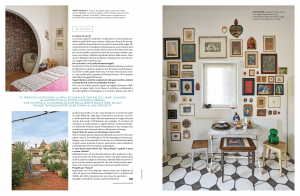 EXOTIC FEATURES Left. A corner of the room with the bed of Ivano Redaelli. The wallpaper is by Pierre Frey and the armchair Camping. Below. On the terrace, the ceramic Colate vases are by Nicole Valenti for Vgo Associates, the chair and the table Marni.
The room of the heart?
The kitchen, a place of creativity and sharing, my favorite energy is that of being together. Spacious and white, it has a wall studded with ex voto paintings, almost a wall of magic. I began early to study shamanism, I was always very curious, with an intense dream world. I have made many trips to unusual and authentic destinations where I have met cultures and people with ancient spiritual traditions different from ours. I've been to Mongolia, Burma, Mexico, Tanzania and collected stories and objects that I keep here.
Do you have any furniture you're particularly attached to?
The favourite is Achille Castiglioni's '95 Table. I like to cook for friends and friends, or if I don't have time, I'll have something at Cibreo Caffè, just outside the house. A good wine and the game is done. I also love the painting by Zhivago Duncan, I bought it at the Galleria Poggiali in Florence.
Berber carpets, furniture and accessories with an exotic flavour, textures and different fabrics. How did you assemble it all?
Not with a precise order, I move objects within space: I like to live in a flow of continuous change, where balances are destroyed and recreated. This house, which is also my studio, is a bit like the place where parts of different realities coexist. Every piece of furniture has a very deep history and value, linked to my experiences, travels and my vision of the world. In the entrance, for example, there is a modern butcher counter, the ancient Berber carpets come from
From the Soufiane Zarib atelier in Marrakesh, vintage lights are Scandinavian: they are elements that I have collected over time.
He put a blank canvas over the bed. Why?
You must always leave room for something to come true. And there, where I dream and rest, it is a good wish. I can imagine in it anything, it is an empty surface that lives in the extreme freedom of being something new, without having to be defined in
specific way. Maybe someday I'll paint it.
In the house some doors have two "different faces", when you enter and exit. Why?
Let me put it this way. There is an external facade, which is the one that presents itself to the world, that everyone can see, that draws attention to itself, or even camouflages itself, depending on the situation. And then there's an internal, more private, one that only a few can look at:
are those who are allowed to enter that "room".
Plans for the future?
This year with Niva we also created a collection of
wallpapers with the illustrator Isabella Grott and, at the Salone del
2022 furniture, we will present a line of mirrors,
ceramic handles and knobs with a pop food theme.
Benedetta Rossi