NIVA DESIGN & CLOROPHILLA STUDIO
TOTEM ANIMALS
Candles Collection
Contemporary alchemy: totems, crystals and perfumes
The project Totem Animals was born from the collaboration between Clorophilla Studio and NIVA design.
The collection of scented candles originates from a magical vision that combines different artisan excellence of Made in Italy to an alchemical vision related to the theme and materials used to create this original collection.
The subject is that of totem animals, symbols endowed with particular powers on which man has learned to rely, charging them with a very special mystical value.
Since ancient times the figure of the guide animal has been dear to several cultures around the world.
A totem represents wisdom, knowledge and extreme strength
of Mother Nature, it can be considered a true helper, a companion of life and also serves to remind us that we are all united by the same ancestral roots. Discovering your totem animal helps you to better understand the true nature to which we belong, to get back in touch with it and to learn to know each other at a deep level. The totem animal also aims to reunite man with his ancestors and the earth.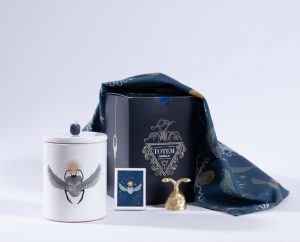 Our project has developed from a careful study related to this theme, in the research process have naturally joined related arguments such as the energy related to crystals.
The properties of the stones are many, the color that characterizes them, the shape, the minerals that compose it, the crystalline system, are all elements that give the mineral a precise vibration. Each crystal therefore has the ability to work on the psychological and spiritual level in a very specific way. We decided to combine totem animals with 5 different types of crystals to create a unique alchemy.
Another important ingredient of our project is the aromas chosen to perfume our candles. It is a wide and fascinating theme, dotted with olfactory tastings and fragrant investigations.
To develop our essences we have chosen to collaborate with the oldest cereal in Florence, immersing ourselves in a sacred atmosphere.
Each candle is also accompanied by a candle blower/ sculpture that embraces the theme of totem animals depicting an owl head with two snakes, it was made with the lost wax casting technique in a small foundry at the gates of Florence.
The ceramic vases that contain the candle were handmade by one of the most historic ceramic workshops in Cutrofiano.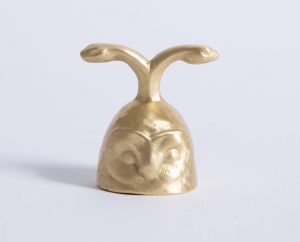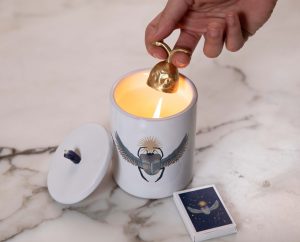 We also developed a scarf that wraps our packaging with the animals totem protagonists.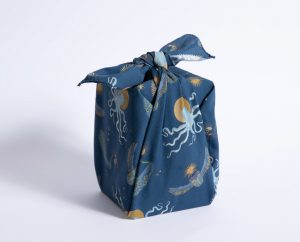 For the realization of our collection of candles we have involved many small artisan realities scattered in different areas of Italy, we believe that collaborate with several hands to achieve a
project is already in itself a magic thing because it allows you to mix different ingredients giving rise to unique creations.
The people who have worked with us over the past few months have
given a part of himself, making with their own hands a piece that makes up our collection.
It was therefore an "alchemical" process in the broad sense that gave rise to something authentic and extraordinary.
The first three totem animals that we present on Christmas are : BEETLE, PEACOCK and OCTOPUS.
Our project is to expand the collection starting from 2022 by developing a new animal totem.